Back in late September, Apple received a lot of criticism after it was discovered that the clock design it used in iOS 6 on the iPad was essentially the same as a Hans Hilfiker design to which both the trademark and copyright were owned by the Swiss Federal Railways service.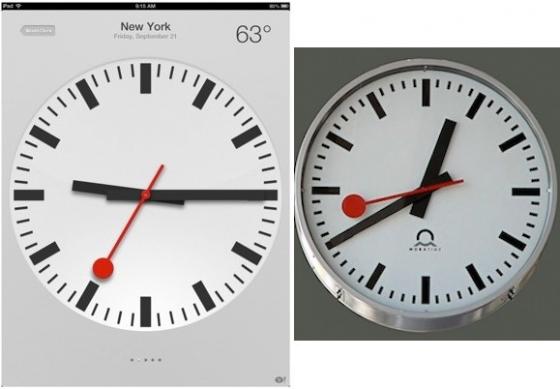 But this was hardly an obscure design used exclusively by the Swiss Federal Railway service. On the contrary, the design has been licensed out to the Mondaine Group since 1986 and has since been used in countless clocks and wristwatches. What's more, the design was even included in exhibits at both the New York Museum of Modern Art and the Design Museum in London meant to highlight exemplary 20th-century design.
And Apple, apparently, just decided to copy the iconic design without paying for it.
The Swiss Federal Railways service (SBB), naturally, wasn't terribly excited to see their intellectual property taken without receiving proper compensation.
At the time, SBB spokesman Ret Kormann explained that the company wasn't hurt by Apple's actions, but that a financially and legally viable solution between the two companies should be hammered out.
And now a few weeks later it appears that it has.
The Verge points us to a press release from the SBB announcing that a deal between the two companies has been reached.
For the use of the SBB station clock on devices like iPad and iPhone, the Swiss Federal Railways SBB and Apple have agreed and signed a license agreement.
Details such as pricing and length of the contract were not disclosed.

Edible Apple
https://www.applesecrets.com/wp-content/uploads/2019/01/AppleSecrets.png
0
0
https://www.applesecrets.com/wp-content/uploads/2019/01/AppleSecrets.png
2012-10-13 02:28:24
2012-10-13 02:28:24
Apple and Swiss Federal Railways service reach agreement over iOS 6 clock design