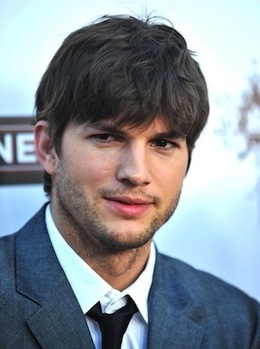 First there was Noah Wyle, and now there's Ashton Kutcher.
We're not sure what to make of this but Variety is reporting that Ashton Kutcher – who you likely recognize from That 70s Show, Punked, and Two and a Half Men – has been tapped to play Apple co-founder Steve Jobs in an indie film titled "Jobs", based on a script from Matt Whiteley.
The film will chronicle Steve Jobs from wayward hippie to co-founder of Apple, where he became one of the most revered creative entrepreneurs of our time.

Five Star Institute's Mark Hulme is financing and will produce the pic, which is scheduled to start production in May while Kutcher is on hiatus from his hit CBS series.
The news is interesting because this isn't the only Steve Jobs movie in the works.
Previously, we heard that Sony Pictures was hoping to get Aaron Sorkin on board as a screenwriter for a Jobs biopic. Sorkin, of course, is an accomplished writer responsible for hits such as A Few Good Men, The West Wing, and more recently, Social Network. And Sony, if you recall, purchased the film rights to Walter Isaacson's Steve Jobs biography shortly after his death. While the exact price Sony paid wasn't disclosed, insiders believe it's in the $ 1 million to $ 3 million range.
In any event, word circulated back in October that Sorkin was in negotiations  to adapt Walter Isaacson's Steve Jobs biography into a film.
At the time, Sorkin said Sony had asked him to write the movie and that it was something he was "strongly considering."
So it looks like we'll be privy to two Steve Jobs movies.
One last point of interest, Ashton Kutcher and Steve Jobs are the same height – 6'2.
via Variety
https://www.applesecrets.com/wp-content/uploads/2019/01/AppleSecrets.png
0
0
https://www.applesecrets.com/wp-content/uploads/2019/01/AppleSecrets.png
2012-04-02 06:30:43
2012-04-02 06:30:43
Ashton Kutcher to play Steve Jobs in upcoming indie film