iLounge, which has provided remarkably accurate iPhone rumors in the past, is back with some more goodies this Thursday morning.
Forget about the teardrop mockups and prototypes we saw last Summer, Jason Horwitz writes that the next-gen iPhone will, as previously rumored, sport a larger 4-inch screen that will be accomplished by implementing a longer screen while essentially maintaining the current width of the iPhone 4S. The result will be a new aspect ratio for the iPhone.
What we've learned: the new iPhone will indeed be longer and thinner than the iPhone 4 and 4S. Approximate measurements are 125mm by 58.5mm by 7.4mm—a 10mm jump in height, nearly 2mm reduction in thickness, and virtually identical width. According to our source, Apple will make one major change to the rear casing, adding a metal panel to the central back of the new iPhone. This panel will be flat, not curved, and metal, not ceramic. Our artist's rendition provides a rough idea of what this change will look like; it echoes the current-generation iMac design, to be sure.
Interesting rendition, but why wouldn't Apple make the entirety of the back metal?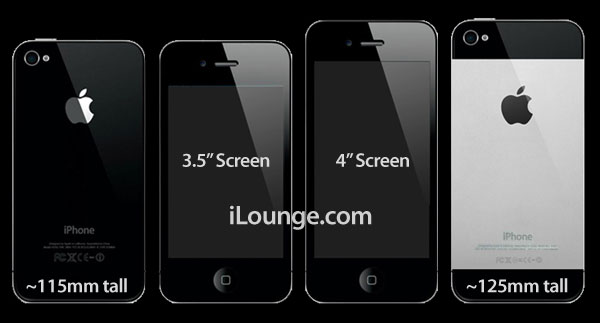 And speaking to the thinness of the device, Horwitz notes that the next-gen iPhone make use of Gorilla Glass 2, a material which provides as much strength as the Gorilla Glass with a thinner form factor.
The report also notes that Apple's next iPhone will introduce a new and smaller dock connector.
Apple will also introduce its new Dock Connector on the new iPhone. The new port will be a little larger than the bottom speaker or microphone hole on the iPhone 4/4S. It's believed to have fewer pins than the prior 30-pin Dock Connector, perhaps only 16, and the shape of the hole is apparently closer to a pill shape than the prior rounded rectangle. It will be used on all upcoming devices, including an update to the iPod touch that's expected this year, and will almost certainly feature a similarly updated screen and CPU.
It's also believed the iPhone 5 will support 4G LTE, and with that battery hungry feature on board, a bigger battery is necessary. As such, a smaller dock connector would free up some space for a device where every millimeter counters.
https://applesecrets.com/wp-content/uploads/2020/11/ASLogo5.png
0
0
https://applesecrets.com/wp-content/uploads/2020/11/ASLogo5.png
2012-05-04 06:00:49
2012-05-04 06:00:49
iPhone 5 to feature 4-inch screen with new aspect ratio and metallic back