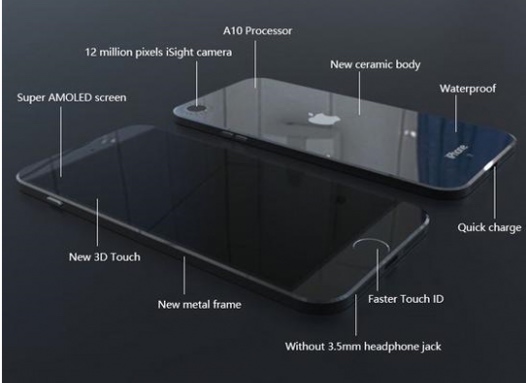 With February already in full swing, rumors surrounding the iPhone 7 are already starting to heat up. Based on what we've seen thus far, it appears that Apple's next-gen iPhone will come without a 3.5mm headphone jack (gasp!) and will rely upon the Lightning port for audio.
That aside, some of the more recent iPhone 7 rumors have indicated that the device will be thinner than the iPhone 6s and will incorporate a camera that sits flush with the body of the device. And somewhere, of course, Jony Ive is smiling.
The most recent iPhone 7 rumor, which you might want to take with the requisite grain of salt, relays that the device could feature a ceramic back as opposed to metal. Additionally, reports claim that the device will incorporate a Super AMOLED display, a new metal frame, quick charging functionality, improved 3D Touch and and Touch ID performance, wireless charging and more.
While intriguing to say the least, there's not a whole lot of evidence to suggest the iPhone 7 will implement an AMOLED screen. Still, the render above is rather intriguing.
via Business Korea

Edible Apple
https://www.applesecrets.com/wp-content/uploads/2019/01/AppleSecrets.png
0
0
https://www.applesecrets.com/wp-content/uploads/2019/01/AppleSecrets.png
2016-02-07 18:59:30
2016-02-07 18:59:30
iPhone 7 rumor points to Super AMOLED screen and ceramic back